A Complete Guide to Fibre Optic Cables
Our selection of fibre optic cables includes SC/SC, LC/LC, SC/LC, andLC/SC options. Ideal for connections between fibre patch panels, hubs, switches, media converters and routers, each cable features ceramic connectors for low signal loss and excellent performance.
Fibre optic cables consist of glass threads, each capable of transmitting digital data modulated into light waves. They effectively send information coded in a beam of light through a glass or plastic pipe.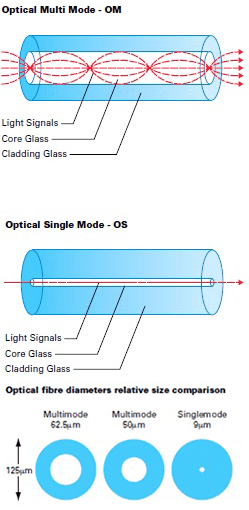 A key advantage of fibre optic cables over metal conductor cables is their superior performance in terms of bandwidth and therefore data carrying performance. Optical fibre cables are generally lighter and less susceptible to electromagnetic interference, however optical fibre tends to be more fragile than cables with a metal conductor.

Applications for fibre optic cables range from carrying telephone calls (up to several million calls per cable) to high speed data transfer for vast computer networks.
Optical Fibre and Fibre cable selection
The type of optical fibre is dictated by the application,the distance which the signals are required to travel, and the speed of transmission. The cable construction is then chosen according to the installation's environmental requirements.
Why use optic fiber cable?
They have practically unlimited information
They have high carrying capacity (very broad bandwidth, THz or Tbits/s)
They have very low transmission losses (<0.2dB/km, cf1dB/km microwave, 10db/km twisted copper pair)
They do not dissipate heat
They are immune to cross-talk and electromagnetic interference
Fiber optic cables have many uses in a variety of situations in industries and applications. Check out some of these uses:
Medical
Optical fibers are suited for medical use. They can be made in flexible strands, extremely thin for insertion into the lungs, blood vessels, and many hollow parts of the body. These optical fibers are utilized in several instruments that allow doctors to observe internal body parts without performing any surgery.
Telecommunications
Optic Fiber is installed and used for receiving and transmitting purposes. Telephone transmission uses fiber optic cables. These fibers transmit energy in the form of light pulses. Its technology is comparable to that of the coaxial cables, apart from that the optical fibers are able to handle thousands of conversations concurrently.
Networking
Optic fibers are used to connect servers and users in a variety of network settings and also help in increasing the accuracy and speed of data transmission.
Industrial/Commercial
Fibers are used for imaging in reach areas, such as sensory devices to make temperature, as wiring where EMI is an issue, pressure, as wiring in industrial settings and automobiles. Broadcast/CATV Cable companies use fiber optic cables for wiring HDTV, CATV, video-on-demand, the internet and many other applications.
Defense/Government
They are used as hydrophones for SONAR and seismic uses, such as wiring in submarines, aircraft, and other vehicles.
Data Storage
Fiber cables are used for data storage as well as transmission. Fiber optic cables are also used for imaging and lighting and as sensors to monitor and measure a vast array of variables. Furthermore, fiber cables are used in development, research and testing across all the aforementioned applications.
Fibre Optic Cable Specification and Characteristics
Optical fibre cabling has numerous key classifications and characteristics. These directly impact its efficiency regarding line speed, signal strength, and bandwidth.
Below is a number of factors which could influence optical cable's overall performance.
Fibre Optic Cable Transmission Speed
Fibre optic data transfer rates are usually reliant on several aspects – chiefly the cable mode. Optical fibres can be configured as either singlemode or multi-mode. These arrangements are designed to deliver lower or higher standard broadband speeds (measured in Mbps) over certain defined distance ranges.
However, optical fibre speed is still extremely high regardless of whether you are using a multi-mode or single-mode cable. Fibre optic cables offer the fastest commercial-grade mode of communications data transfer and internet connectivity currently available.