Ethernet Cables in Kenya
Ethernet Cables in Kenya is known as a standard way to connect computers on network over wired connection. Ethernet cables connect devices such as personal computers, router, switches and hubs on Local Area Network (LAN) or Metropolitan Area Network (MAN). A special type of Ethernet cable used to connect two computers is called crossover cable
BENEFITS OF ETHERNET CABLES OVER WIFI
Using WiFi is more convenient than a wired Ethernet cable, but Ethernet still offers advantages in terms of faster speed, less interference, less latency and increased security which are discussed as follows.

Faster Speed: Ethernet cables provide faster speed up to 10 Gbps whereas WiFi technology has maximum supporting speed of 866.7 mbps. Ethernet cables are best to use for fast file transfers between computers.
Less Latency: latency time is the reaction time of response between router and your device. In WiFi connections the latency time is high as compared to Ethernet connections.
Less Interference: While using WiFi many objects can interfere with signals like neighbour WiFi signals, walls and other obstructions. But this is not in the case of Ethernet cable connection. The interference can be easily fixed and avoided in Ethernet cables.
Security:If you are using WiFi, anyone in the range can attempt to connect with wireless router whereas; in case of Ethernet cables physical connection is required to connect to the router.
DIFFERENCE BETWEEN CAT5E CABLE VS CAT5E CABLE VS CAT6 CABLE: CATEGORIES OF ETHERNET CABLE
Ethernet cables are categorized into different categories. The mainly used categories are discussed in following table. The speed is measured in Megabits per second (Mbps) or Gigabits per seconds (Gbps) and frequency is measured in megahertz (Mhz).
| | | |
| --- | --- | --- |
| Ethernet cable category | Specifications | Description |
| CAT5 cable | Speed: 10 Mbps to 100 mbps Frequency: 100 Mhz | CAT5 cable is the oldest and slowest UTP cable. Now these cables are not available in the stores, but are available with older router or any older networking device. |
| CAT5e cable | Speed: 10 Mbps to 1000 mbps Frequency: 100 Mhz | CAT5e is enhanced CAT5 cable with additional increase in speed and reduced interference level. They support upto 1000 mbps or 1 Gbps of speed so they are often called 'gigabit Ethernet'. |
| CAT6 cable | Speed: 10 Mbps to 10 Gbps Frequency: 250 Mhz | CAT6 is successor of CAT5e with few more improvements in speed and frequency. The crosstalk (i.e. internal interference) is also reduced by making more twists in each copper pair. The new network infrastructures are using CAT6, so they are easily available in market. They require Gigabit compatible hardware for their installation. |
| CAT6a cable | Speed: 10 Mbps to 10 Gbps Frequency: 500 Mhz | With reduced interference capabilities CAT6a allows connections up to longer range at speed of 10 Gbps. It has a plastic separator spine running in centre that decreases the interference. |
| CAT7 cable | Length: 100m Speed: 10 Mbps to 10 Gbps Frequency: 500 Mhz | These Ethernet wires are used for commercial purpose with maximum speed of 10 Gbps and need certified CAT7 infrastructure, failing to which will degrade their performance |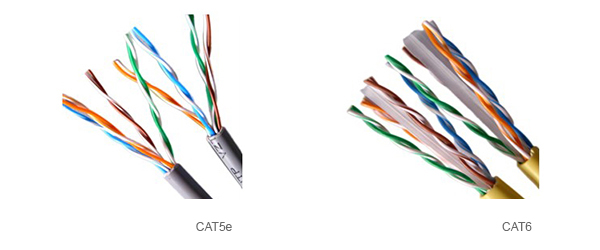 Ubiquiti Networking Products